Are Your Organisation's Employees Highly Susceptible To Digital Disruption?
Is Your Company Coping Well With The Exponential Changes Shaking Your Industry?
Are Your Leaders Equipped With The Necessary Skills And Knowledge To Grow The Business Into The Age Of Industry 4.0?
Government Grant Available!
Let Us Solve All These
Issues For You Today !
Innovation-Express!™ is a one-of-a-kind corporate learning workshop that is designed to help participants apply simple and powerful strategies of innovation through our signature Unified Theory of Innovation Framework and hands on Innovation Sprint.
The objective is to educate and empower our participants to innovate in their respective areas of work, functional responsibilities and stakeholder management.
To put it simply, this government-supported workshop "shocks" your people into realising the urgency of business transformation in the face of disruption, and up-skills them to make that transformation happen when they return to their workplaces!
This 2-Day Programme Will Enhance Participants' Ability To:
• Grow Your Business And Services Amidst The "Digital Chaos"
• Improve Business Efficiency And Performance For The Digital Age
• Understand And Serve (Internal And External) Customers Needs And Be The Next Netflix Or Amazon
• Transform Their Mindsets And Strategies For The Innovation Economy
• Innovate New Business Models And Products To Ride The New Wave Of Business Evolution
...And most importantly, Help Your Organisation Navigate And Win In The 4th Industrial Revolution.
According to World Economic Forum's Future of Jobs Report 2018, "Innovation" is a highly sought after skill in the workplace today and into 2022 and beyond.

As we enter the 2020s, rapidly shifting technological, geopolitical, climatic and demographic forces are expected to result into deeper, broader and more frequent industry disruptions.
For instance, in 2000, Goldman Sachs, a leading global investment bank, had 600 equities traders, buying and selling stock on the orders of the bank's clients.
Today, there are only two traders left.
Due to automation and a seismic shift as to what technology can do, Goldman Sachs now employs more computer engineers than traders.
And this is just one, amongst countless examples, of the magnitude of the present and coming disruption tsunami.
In this age of hyper-disruption, it is critical for companies to accelerate their corporate innovation and digital transformation agenda. Thus, everyone in the organisation should be up to speed and adopt innovative mindsets, strategies and skills quickly.
Acquire the #1 Skill You Need to be
Future-Ready
The Benefits Of INNOVATION-EXPRESS

Add Value to your Company
Help your company Improve its Performance

Enhance your Career and Relevance
Develop a critical skillset of the future economy

Grow your Business and Products
Discover 6 new ways to grow revenues and customer base

Improve Service to Customers
Identify what your customers want even before they know it themselves

Transform your Mindset & Potential
Learn how you can benefit from and avoid the risks of the 4th Industrial Revolution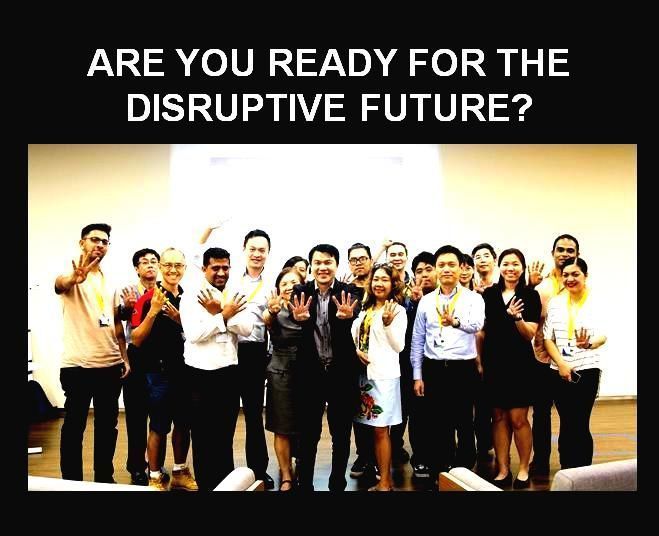 Corporate Managers & Executives
Innovation Leaders & Practitioners
Government / Public Sector Leaders & Officers
Entrepreneurs & Business Owners
Consultants & Trainers
Functional Professionals & Specialists
Marketeers & Creatives
NETT FEE (40/SME)

MOST POPULAR
1) SINGAPOREAN 40 OR OVER (CAN USE INDIVIDUAL SKILLSFUTURE CREDIT TO PAY)
OR
2) SME-SPONSORED FOR SINGAPOREAN OR PR AGED 21 & ABOVE
NON-SINGAPOREAN OR NON-PR
SINGAPOREAN OR PR AGED 21 & ABOVE (CAN USE INDIVIDUAL SKILLSFUTURE CREDIT TO PAY)
SINGAPOREAN WITH WTS (WORKFARE TRAINING SUPPORT) ELIGIBILITY (CAN USE INDIVIDUAL SKILLSFUTURE CREDIT TO PAY)
*Note: Additional Absentee Payroll Funding available.
**Note: $500 SkillsFuture Credit can be used to offset bill.
Conducted By Business Futurist, Innovation Strategist & Future of Work Expert
CHARLIE ANG
This course is designed, delivered and facilitated by Mr. Charlie Ang, A Business Futurist, Innovation Strategist, Disruption Expert, and the Founder of The Innovators Institute.
His thought leadership and insights have been featured extensively in various media and publications such as BBC World News, The Straits Times, The Business Times, Channel NewsAsia, MediaCorp Channel 5, Financial Times, Singapore Business Review, TODAY Paper, 938 LIVE FM, The SME Magazine, e27, IMDA, Yahoo! Singapore and WISE (World Innovation Summit for Education).
Charlie is also a regular speaker at conferences and forums on topics ranging from 4th Industrial Revolution, future trends, strategic innovation, disruptive technologies, startups, education, human resources, jobs and entrepreneurship.
He has been invited to speak to/at government agencies (e.g SPRING Singapore, Workforce Development Agency, Info-Comm Development Authority, Ministry of Education, IE Singapore, NTUC), universities (e.g. National University of Singapore, Singapore University of Technology and Design, Manchester University, New York University), corporations (such as Capitaland, PSA, Prudential, Singtel, StarHub, GSK, Vodafone, Singapore Exchange, PayPal, Autodesk, Aviva, OCBC, Fonterra) and conferences (organised by Singapore Business Federation, Singapore HR Institute, NTUC, Financial Times, ASME, SSIA, BCA, etc).
Very recently, Charlie was invited to be the Regional Judge of the prestigious IDC Asia-Pacific Digital Transformation Awards 2017 and on the steering committee and judging panel for the Singapore Human Resources Awards 2018.
Professionally trained at Singularity University in Silicon Valley, Oxford University Said's Business School and Stanford University, Charlie has helped numerous public and private sector organisations innovate and transform in the 4th Industrial Revolution.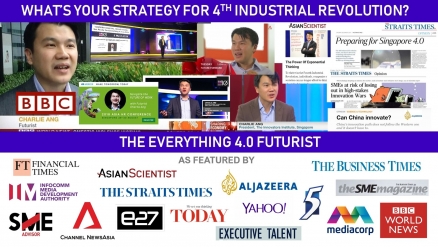 Trust The Words Of The People Who Have Attended The Programme.
"This programme was very insightful. It gave a strong understanding of the upcoming changes in the innovation economy and helps put one in a competitive advantage. I would recommend for anyone who wants to shape the future as opposed to entering it passively."
Prakash Natarajan

Global IT Director

Unilever Asia Pte Ltd
"This workshop was a real eye-opener in linking currently developing technologies to possible future scenarios and how they could disrupt business and work as we know it now. The workshop was also a treasure trove of examples and anecdotes that made it easy to understand and follow."
Mark Khng


Senior Specialist, U Future Leaders

National Trades Union Congress
"Charlie is a very engaging speaker. He is able to kae something complicated, simple. It is a complex subject, but he was able to explain clearly what the effects on the factors listed are. I walked away confirming some of my understanding and learning new things in the process. For anyone wanting to know what the future of business will be like, then you should not miss this!"
Lim Kien Hwee

Divisional Director

Enterprise Singapore
"The workshop is inspiring, insightful and, most importantly, impactful! It enabled me to appreciate the Future Economy and equipped me with the tools to take action."
Andy Sim


Director, Digital Innovation

National Volunteer & Philanthropy Centre
The #1 Skill You Need to Be Future-Ready Now!
Drop us an enquiry if you have any or if you just wish to find out more about INNOVATION-EXPRESS!™
Copyright © 2019 All Rights Reserved